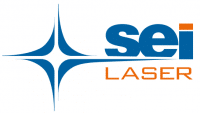 SEI Laser Paperone 7000 Digital Converting and Finishing System
Paperone 7000 is the most technologically advanced system for digital converting and finishing of B1 sheet materials. Specially designed for the packaging and folding carton industries, Paperone 7000 is the new modular laser-based solution for real-time digital cutting and creasing. It is compatible with paper, paperboard, PET, PP and BOPP.
Paperone 7000 utilizes an innovative, proprietary creasing/embossing system exploiting a male/female concept.
Paperone 7000 has a precise mechanical registration system in addition to a digital camera based registration system which ensures a high degree of accuracy and productivity. It is capable of feeding a max sheet size of B1+, 44.09″ x 29.92″ (1120 x 760 mm).
Modules available: manual or pallet loading automatic feeder, alignment table, male/female creasing module, laser cutting unit,  single/dual/triple laser module, waste collector, sheet brushing module, automatic pallet loading stacker, offline system for creating creasing/embossing plates, fume exhaust system.
SEI Laser Origami
Paperone 7000 is also compatible with SEI Laser's Origami, the innovative, proprietary creasing/embossing system using a male/female concept. A stand-alone 3D digital printing station that allows for quick and simple creation of creasing and embossing plates without outsourcing. The creasing quality is equal to that of traditional professional creasing.
Quick Links
Case Study: Southern Champion Tray
Webinar: The Power of Laser: How TRUE Digital Finishing Can Transform Your Future and Profits