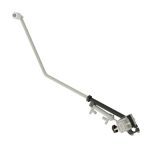 KELVA LV9 consists of a pneumatic regulating valve with a cylinder arm or spring arm. The device is fitted to a round bar with its roller against the reel of material. It registers reduction in the diameter of the reel and regulates air pressure to a KELVA brake to keep constant web tension.
KELVA LV9 – Highlights
Fully air operated
Explosion proof
Choose between spring or cylinder arm
Available for rolls with up to 62.99″ (1600 mm)
Reliable, inexpensive and simple to install
Specifications
Product name: KELVA Web tension control (LV9)
Options: Cylinder or spring arm
Applications: The LV9 can be used for most materials, provided the diameter of the reel does not exceed 1600mm.
Additional: Hand lever valve complete with air regulator and pressure
gauge for cylinder arm configuration.
Quick Links