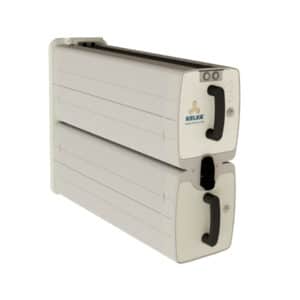 KELVA contact web cleaning systems are available for both single- and double-sided continuous contact web cleaning. Specially developed polymer rollers lift and transfer contaminates from the web surface to replaceable adhesive sheets.
Even at low pressure, the polymer roller is designed to give good contact to the web – even at low pressure. The active static discharger, located after the rollers, ensures that the web does not re-attract dust after passing through the cleaner.
KELVA Contact Web Cleaners are suitable for cleaning of coated (glossed) paper, film and foil with low dust levels. Web speeds up to 984 ft. (300 m/minute) and web widths up to 98.5" (2500 mm). Pneumatic operation. Available for cleaning of one side or both sides of the web.
Standard Versions
| | | | |
| --- | --- | --- | --- |
| Type | Single-/double-sided | Web width min. | Web width max. |
| CWC | single- or double-sided | 9.84" (250 mm) | 25.59" (650 mm) |
| LC | single-sided | 7.88" (200 mm) | 51.18" (1300 mm) |
| LCW | single-sided | 55.12" (1400 mm) | 98.43" (2500 mm) |
| WWC | double-sided | 27.56" (700 mm) | 51.18" (1300 mm) |
| WWCMR | double-sided | 55.12" (1400 mm) | 82.68" (2100 mm) |
Benefits of Kelva Contact Web Cleaners
Easy to retrofit
Compact, with small overall dimensions
Gentle web handling
Easy to detect web contamination
Silent operation
Quick Links
Order Adhesive and Polymer Rolls