Labelin achieves order-to-ship automation of custom labels with Labelmaster
Headquartered in Irvine, Cal., Labelin is advancing from an early-stage business into its growth stage with the acquisition of an SEI Laser Labelmaster. The company was founded by Claudia Soto and José Olavarría six years ago in a dorm room. The co-owners had a vision to help small businesses by providing fast, personalized short-run labels, stickers and decals. Since the beginning, they planned to further automate their business by offering laser-cut labels in virtually any shape. After reviewing different laser systems, Labelin invested in the Labelmaster from SEI Laser to move their business forward.
Labelin started by digitally printing precut label stock. As the business grew, they expanded into new facilities and invested in additional digital presses and semi-rotary die cutters. Customers visiting Labelin.us easily get pricing and order online by selecting from a range of standard shapes, sizes and materials.
 "Customers often ask for uniquely shaped labels," says Claudia. "We could meet their needs by ordering a new die, which adds cost and three days to the turnaround time. Most customers can't justify the increased price or additional time for short-run orders. They often select a standard shape and size that will work for their design. In some cases, we lose a project that could be completed with a laser system. For the last three years, we've been telling customers that we will be getting a laser that can cut custom shapes and sizes. And that is happening now."
To continue their growth and minimize labor, Labelin wanted a fully automated process from ordering to shipping. Cutting is the one process where the company needed to advance to digital. When Labelin was ready to invest in laser-cutting equipment, they researched systems from a few different companies. After narrowing the choices to two brands, Labelin's co-owners visited businesses that were using the lasers. SEI Laser's North American distributor, Matik, Inc., arranged for Labelin's co-owners to visit Enterprise Print Group to see the Labelmaster in action.
"After visiting Enterprise, it became obvious that SEI Laser is more robust," says Olavarría. "The laser systems offered by the other vendors were more expensive, had limited roll-to-roll label capabilities, and didn't offer critical upgrade and retrofit options. SEI's Labelmaster is the only modular system that could provide flexibility for future growth and added capabilities. We also worked with Matik's financing partner to finalize the purchase."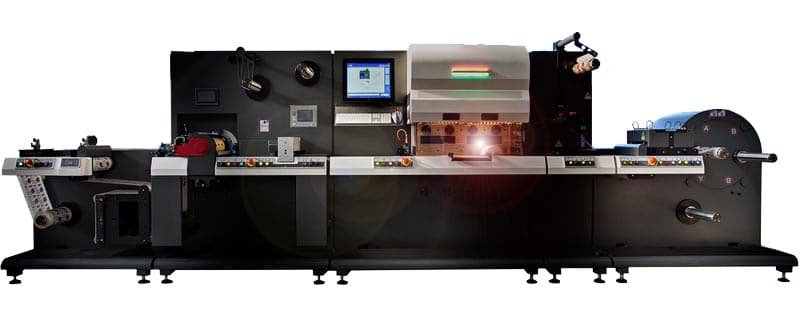 Labelmaster delivers true digital finishing, including rapid setup and on-the-fly changeovers and cutting without the need for tooling and die inventory. In addition, because there are no dies, Labelmaster greatly reduces finishing make-ready time. Other advantages of the Labelmaster include:
Quick delivery of short- to large-run orders
Maximum design flexibility
Increased accuracy
Expanded materials processing capabilities, such as PET, PP/BOPP and paper
Roll-to-roll, roll-to-sheet and roll-to-sticker capabilities
Maximum web speed of 330 feet per minute (100 meters per minute)
Web widths up to 14 inches (350 mm)
Roll diameters up to 24 inches (610 mm) or 40 inches (1,000 mm)
Modular design for expanding future capabilities
To learn more about Labelmaster, request samples or a virtual live demo, visit matik.com/product/sei-label-master.
"As everyone knows, there is a significant labor shortage," says Olavarría. "The SEI Laser system will minimize our need to hire and train new staff. We have a three-month training process for new employees. The Labelmaster is so easy to use current and new employees will learn to operate it quickly. Training will be cut in half or maybe more."
Labelin is working on a new website to provide easy order placement of fully customizable labels, stickers and decals. Excellent service, quality and fast delivery are key to Labelin's business. Offering true digital finishing using the Labelmaster will reduce lead times from seven to 10 days down to three to five days or faster, ideally shipping the same week. In addition to the expanded capabilities, Labelin will be able to increase profit potential and accommodate new niches, such as large labels for the agricultural market. www.labelin.us