High-Performance Laser Systems
Digital finishing allows for productivity up to 10x greater than conventional machines, eliminating costs and time delays associated with traditional cutting dies to increase profits.
LabelMaster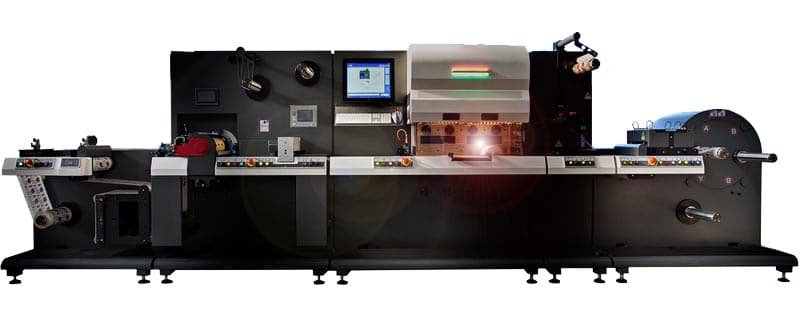 SEI LabelMaster is the state of the art system for processing roll materials in the packaging and labeling fields.
Processes include laser cutting, laser die-cutting, mechanical semi-rotary die-cutting, flexography, selective flexography, semi-rotary hot stamping in gold, self-wound lamination, lamination with liner, label shifter, laser cutting, laser marking, laser micro-perforation, cutting of single sheets (sheeting), longitudinal reel cutting (slitting).
Meeting the demands of converters and manufacturers looking for high-performance in self-adhesive label production processes in all sectors, such as industrial, wine, food&beverage, beauty, textiles, flexible packaging, promotional, converting, anti-counterfeiting, RFID and many others.
PaperOne 5000
SEI Laser PaperOne 5000 is the most innovative advanced digital converting and finishing system for sheet materials. It is compatible with paper, cardboard, PET, PP and BOPP.
It is the most flexible and fastest machine for complex die-cutting for micro-packaging and brochures, greeting cards, literature, pinstriped paper, posters, envelops and more. This flexibility is unreachable by traditional die-cutting machines.
An integrated ProCrease system, an innovative proprietary creasing system that uses mail/female concept developed by SEI Laser. A stand-alone innovative station allows it to quickly and simply create its own creasing plates.
Request a Sample or Video Demo