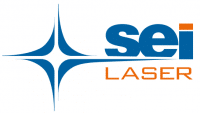 KyoJet is a new digital high-resolution inkjet UV in-line solution for Labelmaster made by SEI Laser. Labelmaster and KyoJet create the only single-pass machine that creates labels from PDF to shipment.
SEI Laser, the Laser Converting Specialist, presents Labelmaster: the flagship narrow web 13.78″ (350 mm) and medium web 23.62″ (600 mm) Laser
Die-cutting and Finishing System.
Labelmaster and KyoJet are revolutionary and optimize the web to label concept.
The Labelmaster is the only TRUE digital hybrid system that can digitally print & cut in a single pass:
No printing plates
No magnetic dies
No die or printing plate changeovers
Very, very low waste
Only one operator to print & cut
Unmatched speed to market
Unlimited creativity
Labelmaster meets market demands of low and medium-high volumes with the choice of one to four lasers, with powers ranging from 150 to 500 W each — a production speed of 328 ft./min. (100 m/min.). A key factor for the success of Labelmaster is the ultimate quality and precision of the laser cutting: SEI Laser is the only company on the market that directly offers a system which is completely designed and produced internally.
PRINTHEAD TECHNOLOGY
Up to 8+2 color slots Epson S3200U-U3
FULL DIGITAL WORKFLOW
On-line 4.0 integration Automatic setup
RESOLUTION
600 x 600 DPI and 600 x 1200 DPI
PRINT SPEED
Up to 180 feet/Min (55m/min)