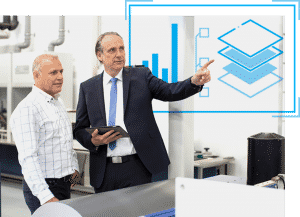 With OLBRICH you can rely on state-of-the-art technology and decades of experience from hundreds of reference plants in the floor covering industry worldwide. Therefore, you can always rely on the high reliability, efficiency and flexibility of your machines.
In close cooperation with you, our machinery experts implement systems for each of your process steps: from multi-layer product construction through surface finishing to the winding or packing of ready-to-sell floor covering rolls or tiles. Thanks to our expert process engineering advice, you know right from the start what is important for your new systems.
Over the past 70 years, OLBRICH has realized many innovations for the floor covering industry: from the world's first five-metre wide coating lines for heterogeneous PVC floor coverings to the introduction of consistent inline production and in-register embossing (EIR – embossing in register) for luxury vinyl tiles (LVT) and cushioned vinyls (CV).
With coating lines from OLBRICH, you benefit from consistent process optimizations, ease of maintenance and optimum process windows with regard to your coating media. The variety of different coating processes allows you to easily create innovative and flexible floor coverings that set you apart from the competition: In addition to common CV floor coverings, also for state-of-the-art LVT, PVC-free products or carpet tiles with special backings.
As an experienced supplier of complete coating and drying systems, OLBRICH can also offer you tailor made systems. This ensures maximum efficiency for your production.
Coating Technology:
Knife over roll coaters, KOR
Combined knife over roll coaters with take-off roller
Roll Coater, RC (two rollers)
Three-Roll-Reverse-Roll-Coater, RRC (three rollers)
Heated rollers and coating knives
Automatic coat weight control via weight measuring systems or recipe management
Printing Technology:
Doctor chamber systems for minimal ink consumption during ink changes
Turret heads for different working widths
Digital pre-setting of the register control systems
Safe tension control and visualization during the entire printing process
High performance intermediate dryer
Machines for direct/indirect coating application
Forward or Reverse coating
Tandem printing/coating units for quick product changes during production
Drying Technology:
Circulating air heating with thermal oil, steam or natural gas
Frequency controlled recirculation fans
Combined or separate upper/lower air supply
Bottom heating plates and separate top air supply
Combined heating plates for top and bottom heat
Goods transport systems with special conveyor belts/idler rollers
Annealing lines
Laminating Technology:
Thermal laminating
Lamination by means of adhesives
Lamination with central cylinder
Pre-conditioning of the films
Embossing/Smoothing Technology:
In-register embossing, EIR (embossing in register)
Hot embossing
Turret embossers
Vertical or horizontal web pass
Optimum energy efficiency
Calendar Lines:
Coating and film calenders (MRC – melt roller calender)
Inline calender systems
Offline calendering systems
Laminating calender
Calibration calender
Winding Technology:
Unwinder/rewinder
Single/double winder
Turret winder (shafted or shaftless)
Center winder
Circumferential winder
Semi-automatic winders
Fully automatic jumbo roll winders
Fully automatic finished roll winders (CRW – customer roll winders)
Finishing Technology:
Fully automatic packaging machines (with craft paper or film)
End wrapping
Labelling
Roll logistics
Sheet/slab handling and cutting machine
Robot technology for the stacking of slabs
Drive and Control Technology:
Conception and realization of the drive technology
Switchgear planning and manufacturing
Software engineering for CPU
Visualization / scada systems
Support and assistance with IQ and OQ
Service over the entire life cycle
Retrofittings and Upgrades
Service through remote support
Quick Links
OLBRICH Floor Covering Industry Brochure