WEST HARTFORD, Conn.—Happy customers are the measure of success at Orbytel Printing & Packaging, which specializes in delivering high-quality printed labels and folding cartons for any-size order, quickly at an affordable price. Located in Cleveland, Ohio, the company has a mix of digital and traditional printing equipment to help deliver on that promise. Until recently, Orbytel had relied on traditional die-cutting equipment for production of folding cartons. The company has extended its competitive edge with a SEI Laser Paperone 5000 true digital finishing and laser converting system purchased from North American distributor Matik, Inc.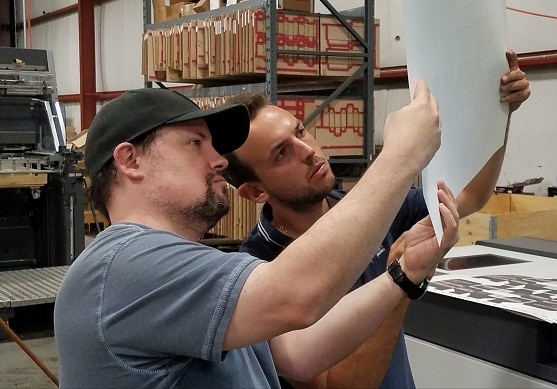 "Efficiency and flexibility make SEI Laser well worth the investment," says Mark Uvlin, owner of Orbytel Printing & Packaging. "Because the changeovers are faster, the system is ideal for short runs of 1,000 folding cartons. It can also handle larger production runs. If we do not have a die or the customer makes changes, we do not worry about it. The SEI Laser system can handle it. Even when we have an existing die for a job, if the traditional die-cutting machines are full, we put it on the Paperone laser cutting system."


SEI Laser's Paperone 5000 is the most innovative and advanced digital converting and finishing system for sheet materials. Flexible and fast at speeds up to 2,500 sheets per hour, the Paperone 5000 laser system delivers cutting, creasing, scoring, microperforating, versioning and other personalization. It is compatible with paper, paperboard, PET, PP and BOPP materials. Paperone is offered in six laser configurations, including single or double lasers with 300, 500 or 800 watts. Paperone 5000 delivers on-the-fly job changes with integrated barcode readers.

Uvlin embraces new technology that increases speed and efficiency. The company learned about SEI Laser equipment from Matik. While Orbytel previously had a laser system for its label division, this is the first laser system purchased for production of folding cartons and packaging. The Orbytel team went to SEI Laser's facility in Italy for a live demo of the Paperone 5000. The capabilities exceeded their expectations, and the purchase was made. After the machine was delivered, installation went smoothly, and training was provided.
"Paperone 5000 is not difficult to operate," says Uvlin. "Anyone that can use a computer can be trained to use it. Our production team was able to come up to speed quickly."
Confident in the brand, the company plans to invest in additional SEI Laser systems in the future.
For information, samples or a virtual demo of SEI Laser's Paperone 5000 system, visit matik.com or call 860-232-2323.
About Orbytel Printing & Packaging
Orbytel Printing & Packaging is dedicated to the success of its customers. The company produces high-quality labels, packaging and displays with short lead times at an affordable price. Using a combination of digital and traditional printing and finishing, Orbytel is capable of producing orders of any size, including short production runs. To learn more, call 216-267-8734 or visit orbytel.com.