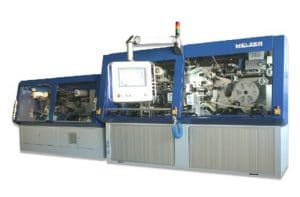 During Labelexpo Americas 2018, MELZER GmbH, the market leader in RFID converting, will exhibit at MATIK booth #5803 their patented system that detects and ejects defective inlays, delivering 100% quality product before insertion. MELZER RFID converting solutions feature a constant low-tension web design, minimum material deflection and an exit RFID reader that ensures the highest accuracy and output.
MELZER RFID converting is available in a wide selection of converting solutions for dry or wet inlays, labels, tags, tickets and cards. The inlays are capable of handling an extensive range of substrates from film to paperboard, in a wide range of sizes. Inlay insertion is highly accurate and consistent. Changeovers are quick with minimal waste, making MELZER RFID converting systems extremely productive solutions.
MELZER offers flexibility and well-known durability. Compared to other off-line production inspection systems, MELZER's patented process delivers lower production costs with the highest quality output, at up to 60,000 pieces per hour.
MATIK's personalized support services include parts and technical support to customers in North America—delivering tailor-made support to hundreds of customers in North America. At Labelexpo Americas, MATIK will be explaining how MELZER RFID can be easily installed to offer a productive system for any label company interested in investing in smart labels.