Matik, Inc. recently attended the world's largest event for the label and package printing industry, Labelexpo Europe. Attracting 35,739 visitors, from 146 countries, Labelexpo showed an increase in visitor numbers from 2013 of 12.4%. Matik, Inc. had their hands full managing the product launches of several lines including  the new high-speed SEI Laser Labelmaster, the new OMET iFLex & JetPlus Presses, the latest in RFID label, tag & ticket converting from Melzer and the Grafotronic Modular Non-Stop Digital Finishing System.
Lisa Milburn, Managing Director of the Labelexpo Global Series commented, "…The main trends coming out of this year's show are the continued move to package printing as we see more manufacturers bringing short run production printing presses, which backs up our strategy going forward, and the ongoing dominance of digital as more and more hybrid digital printing presses flood into the marketplace."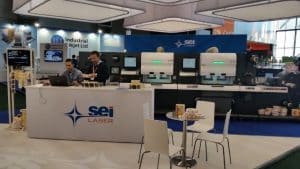 SEI Laser unveiled their new High-Speed, 4-Laser Labelmaster, a laser system for processing roll materials in the packaging and labeling fields. Customers watched demonstrations of the Labelmaster laser die cutting labels at 110 mt/min (360 feet/min), the Labelmaster is the fastest, most accurate digital laser converting machine on the market to date.
OMET was in full focus as they introduced their new flexo and digital presses. The machine that was being referred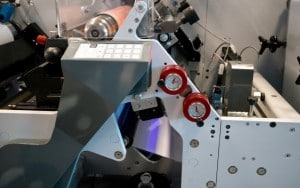 to as "Queen of the show" was the iFlex press. The iFlex 370mm (14'') label press whose simple operation and great ergonomics of use have prompted interest among converters following its debut last May. Label printing has changed forever with the iFlex, as it is by far the "best in class" among entry-level presses. With a steady increase in exports to the USA as well as globally, OMET continues to strengthen its presence in the label & packaging industries. Despite the difficult economic slowdowns in the Italian market, OMET sales continue to grow.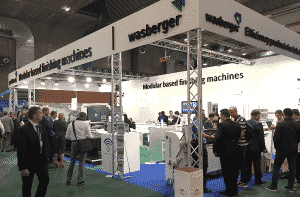 Grafotronic/ Wasberger had their new Modular Non-stop "DCL" Digital Finishing System (with maximum speeds of 180m/min) on display at Labelexpo Europe and it attracted constant crowds that were interested in the new  modularity and non-stop production. The DCL has many options including; cold foil/laminations, flexo printing front & back, New non-stop buffer, New non-stop semi-turret rewind with auto-cut & auto-start to name a few.
MELZER displayed their many accomplishments in the RFID label, tag & ticket converting market, RFID applications on display included cloth tags, Olympic tickets, very small jewelry labels, transit cards as well as high security ID & passport applications. MELZER's patented inline 100% inlay inspection/ejection system attracted a great deal of attention as converters seek to achieve lower waste levels.