The next step in high-performance manufacturing of all forms of Die Cutting is here
Matik, Inc. proudly announces entering a contract to sell and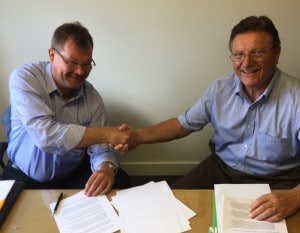 service in North America for the successful German lid die cutting company H.-D. Mendel GmbH. In 1977 Heinz-Dieter Mendel opened his doors as a contract die cutting producer and in 1990 his company produced their first self-made machine. Less than two years after that success, a large machine division was officially established.
Now, with over thirty years of experience, H.-D. Mendel GmbH has increasingly focused on the practical uses of their machines. Designed by machine-users for machine-users, the MEDESA WEBMASTER RGS base model follows this focus with a well-designed adapter mechanism for features that accommodate foil, paper, and film materials to grow in the shape required by serve the user. All system data and operating parameters can be programmed and changed on the touch screen of the microprocessor.
An additional feature of the machine is to separate the amount of cuts desired by creating a visible dimple in the stack of finished foil pieces. H.-D. Mendel GmbH also offers the option to have a live production-tracking connection with the service technician on his or her smart phone, in order for them to better service the machine in a timely manner.
Matik, Inc. is a proud new supplier of H.-D. Mendel GmbH machines and President Wolfgang Ripper is pleased with the deal of adding H.-D. Mendel GmbH to the impressive list of companies that Matik, Inc. represents such as OMET. "Matik is very pleased and excited to add H.D. Mendel Die-Cutters to our product lines. Dieter Mendel has been very successful placing these units in North America, and now he trusts us to further promote his technologically advanced product," says Ripper.
Heinz-Dieter Mendel GmbH
The daily work in our foil cutting shop led Mendel Stanztechnik GmbH together with our partners KSM-Electronic and RAUCH Precision Tools to develop and optimize the machines as they are offered today and to play a leading role on the international market. In addition to being of a high quality, our machines and tools are extremely cost-effective. Another important advantage is the compact design, which guarantees that optimum production can be achieved with a small space requirement.