A Window to Better Packaging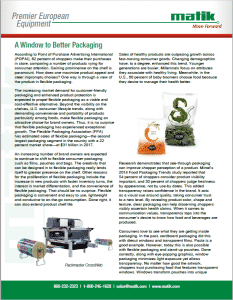 Read the article A Window to Better Packaging
The increasing market demand for customer-friendly
packaging and enhanced product protection is
expected to propel flexible packaging as a viable and
cost-effective alternative. Beyond the visibility on the
shelves, U.S. consumer lifestyle trends, along with
demanding convenience and portability of products
particularly among foods, make flexible packaging an
attractive choice for brand owners. Thus, it is no surprise
that flexible packaging has experienced exceptional
growth. The Flexible Packaging Association (FPA)
has estimated sales of flexible packaging—the second
largest packaging segment in the country with a 22
percent market share—at $31 billion in 2017.
Complete the Form to Read the Full Article