SC-X Converting Machine for Manufacturing RFID Smart Luggage Tags, Labels, Tickets and Garment Tags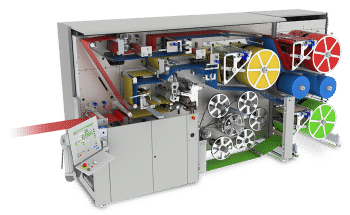 A high-speed, multi-track converting machine, SC-X manufactures radio frequency identification (RFID) smart luggage tags, labels, tickets and garment tags.
The new SC-X from Melzer meets the growing demand for security and authentication products in North America. It gives manufacturers the flexibility to expand into new markets and deliver custom innovative tags, labels and other RFID smart products with maximum productivity and the highest quality.
Rotary and intermittent modes
Web width of 13 inches (330 mm)
Wide range of materials and sizes
Up to six tracks for maximum capacity
Transponder selection in semi-rotary mode
Extremely low scrap rate
Easy to upgrade for changing future needs
Find Out More