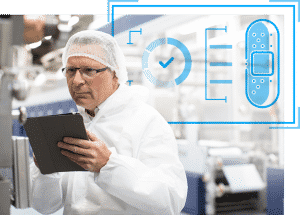 With over 40 years of experience as a partner to the global pharmaceutical industry and medical industry, we know your high demands in this area very well. That is why we have specialised in the design and manufacturing of machines for clean room applications – with safe, validated processes. The focus is on the simple hygienic cleaning of your systems, right up to the latest "Cleaning In Place" (CIP) solutions.
Our guarantee: We select all materials for your machines according to the strict specifications of the "Good Manufacturing Practice" guidelines (GMP) and consider approvals of the American "Food and Drug Administration" (FDA) as well as European organizations.
With coating systems from OLBRICH, you can rely on the highest precision: Our components are accurate to within a thousandth of a millimetre and enable maximum reproducibility. Various coating processes for different medical films are possible.
The working widths of our coating systems are between 125 and 2,000 millimeters, the production speeds between 0.1 and 100 meters per minute. Our machines are particularly easy to clean, so you benefit from a favourable ratio between production and cleaning times.
With OLBRICH you can rely on scalable, safe and validated processes for coating your medical films – from transdermal systems to oral films. However, coatings containing active ingredients are also possible for other applications, for example in the fields of wound treatment and diagnostics.
Coating Technologies:
Roll-Coater, RC
Reverse roll coater, RRC
Knife over roller, KOR
Slot die coating
Combined coating technologies
Printing and Varnishing Technologies:
Logo prints
Protective lacquers
Application of small product quantities in samples
Drying Technologies:
Top Air Dryer
Upper and lower air dryers
Recirculation and exhaust air
suitable for solvent operation
different cleanroom classes
Also with HEPA filter
Laminating Technologies:
Dry lamination after dryer
Wet lamination before drying
Delamination functions for process film removal
Embossing/Smoothing Techologies:
Embossing of surface structures
Smoothing of product layers
Calibration of product layers
Calendaring Technologies:
Smoothing calender
Calibration calender
Winding Technologies:
Single-stage winder
Double winder
Splicing aids and product accumulators
Turret winder (manual/automatic reel change)
Pressure rollers to improve the winding quality (lay on roller)
Side control for unwinders and rewinders
Longitudinal and edge cutting
Winders in cantilever design
Packaging Technologies:
Longitudinal cutter for several product benefits
small product rolls in automatic turret winders
Drive and Control Technologies:
Conception and realization of the drive technology
Switchgear planning and manufacturing
Software engineering for CPU
visualization / scada systems
Support and assistance with IQ and OQ
Service over the entire life cycle
Retrofittings and Upgrades
Quick Links
OLBRICH Film Industry Medical Brochure