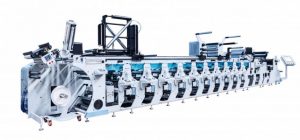 SYNCHROLINE Flexo Press from Lombardi
| | |
| --- | --- |
| SYNCHROLINE Flexo Press from Lombardi delivers maximum versatility for printing on a wide range of materials. SYNCHROLINE Flexo Press is equipped brushless motors and incorporates a precision printing registration system. | |
SYNCHROLINE Flexo Press with A.B.S. Printing Unit:
Hi-FiT system: An innovative system for print rolls of various roll diameter without an adapter. In fact print rolls lay on a special algorithmic curve that enables constant printing pressure.
Hi-FiX system: The plate cylinder is pneumatically clamped for reduced motions and vibrations.
Hi-DynamiX system: The blade is pressured against the anilox roller with a pneumatic system, which automatically adapts pressure to deliver the best ink distribution.
Hi-InX system: When the machine stops, the ink roller (anilox) is removed, followed by the print cylinder, in order to clean excess ink (an essential operation when using non-UV inks).
Forefront Electronics:
Fully-automatic electronic pre-registration system: minimum material and waste of time, with maximum precision.
Fully-automatic register controls with a system for perfect registration on a range of materials.
Electronic tension control for perfect tensioning of different substrates.
Quality analysis system.
| | | | | |
| --- | --- | --- | --- | --- |
| TECHNICAL DATA | SYNCHROLINE 330 | SYNCHROLINE  430 | SYNCHROLINE 530 | SYNCHROLYNE 600 |
| Paper width | 13.78" (350 mm) | 17.72" (450 mm) | 21.65" (550 mm) | 24.41" (20 mm) |
| Print width | 13" (330 mm) | 17" (430 mm) | 20.87" (530 mm) | 23.62" 600 mm) |
| No. print units | 2 – 10 | 2 – 10 | 2 – 10 | 2 – 10 |
| Unwinding diameter | 39.37" (1000 mm) | 39.37" (1000 mm) | 39.37" (1000 mm) | 39.37" (1000 mm) |
| Max speed [per min] | 72.18 ft (220 m) | 72.18 ft (220 m) | 72.18 ft (220 m) | 72.18 ft (220 m) |
| Min. print length | 8" (203 mm) | 8" (203 mm) | 8" (203 mm) | 8" (203 mm) |
| Max print length | 24" (610 mm) | 24" (610 mm) | 24" (610 mm) | 24" (610 mm) |
| Min length rotary die | 8" (203 mm) | 8" (203 mm) | 8" (203 mm) | 8" (203 mm) |
| Max length rotary die | 24" (610 mm) | 24" (610 mm) | 24" (610 mm) | 24" (610 mm) |
| No. rotary dies [n] | 2 – 5 | 2 – 5 | 2 – 5 | 2 – 5 |
| Printable materials | paper, adhesive paper, extensible film | paper, adhesive paper, extensible film | paper, adhesive paper, extensible film | paper, adhesive paper, extensible film |
Quick Links