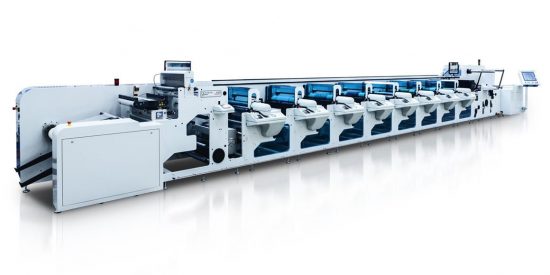 Invicta Flexo Web Press, from Lombardi, is the most innovative flexographic printing concept on the market. It is a universal machine for virtually any substrate, including BOPP, PVC, PE, PET, paper, adhesive paper, thermal paper, cardboard and laminated materials. The Invicta Flexo Web Press is operator friendly and easy to use. Invicta is fast and responsive. Invicta is fully servo and gearless, with three servo motors for each printing unit, sleeve technology with automatic positioning, Hi-Dynamics for pneumatic pressure of the blade on the anilox roll for a perfect distribution of the ink.
INVICTA Web Flexo Press is a revolutionary concept of full automation:
Electronic positioning of cliché sleeve: different from other systems, Invicta automatically locates the operative print position by means of electronic motors, calculating the correct position depending on the format. The pneumatic locking system allows perfect irreversibly of motion. No need of any mechanical adapter after format change.
Electronic pressures: both the cliché and the anilox pressures are motorized using step motors, allowing a fine encoder regulation.
Hi-DynamiX system: The blade is pressured against the anilox roller with a pneumatic system, determining an auto-adaptive pressure dynamic, resulting in the best ink distribution.
Quick tank changeover: able change the tank without changing the anilox, to perform quick ink change.
Forefront Electronics:
Fully-automatic electronic pre-registration system: minimum material waste, minimum waste of time, maximum precision.
Fully-automatic register controls with system for perfect registration on extensible materials.
Electronic tension control for perfect tensioning of different substrates.
Quality analysis system.
| | | | | |
| --- | --- | --- | --- | --- |
| Technical Data | INVICTA 430 | INVICTA 530 | INVICTA 630 | INVICTA 730 |
| Paper width | 17.72" (450 mm) | 21.65" (550 mm) | 25.59" (650 mm) | 29.53" (750 mm) |
| Print width | 16.93" (430 mm) | 20.87" (530 mm) | 24.80" (630 mm) | 28.74" (730 mm) |
| No. print. units [n] | 2 – 10 | 2 – 10 | 2 – 10 | 2 – 10 |
| Unwinding diameter | 39.37" (1000 mm) | 39.37" (1000 mm) | 39.37" (1000 mm) | 39.37" (1000 mm) |
| Max speed [per minute] | 72.18 ft (220 m) | 72.18 ft (220 m) | 72.18 ft (220 m) | 72.18 ft (220 m) |
| Min print length | 8" (203.2 mm) | 8" (203.2 mm) | 8" (203.2 mm) | 8" (203.2 mm) |
| Max print length | 24" (609.6 mm) | 24" (609.6 mm) | 24" (609.6 mm) | 24" (609.6 mm) |
| Min length rotary die |  8" (203.2 mm) |  8" (203.2 mm) |  8" (203.2 mm) |  8" (203.2 mm) |
| Max length rotary die | 24" (609.6 mm) | 24" (609.6 mm) | 24" (609.6 mm) | 24" (609.6 mm) |
| No. rotary dies [n] | 2 – 5 | 2 – 5 | 2 – 5 | 2 – 5 |
| Printable materials | paper, adhesive paper, extensible film | paper, adhesive paper, extensible film | paper, adhesive paper, extensible film | paper, adhesive paper, extensible film |
Quick Links