Mid-Western Region Sales Director – SEI Laser Products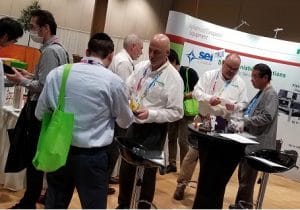 About Matik


Since 1973 Matik, Inc. has been an industry leader in providing European technologies for the
printing, packaging and converting markets. Matik provides machine sales, parts and service
support.
The Mid-Western Region Sales Director will specialize in selling SEI Laser products.
Since 1982 SEI Laser has been one of the most dynamic and innovative companies in the world of laser technology. Due to the complete range of innovative laser solutions developed by its research and development department, SEI Laser is able to satisfy the application needs of customers in both vertical and horizontal markets, including: lighting, visual communication, graphic arts, paper converting, labelling, flexible packaging, folding carton, fashion, interior design, furnishing, automotive, engineering and electronics. SEI Laser designs and manufactures:
Systems with galvanometer scan head equipped with CO₂ and solid state laser source for marking
Flat-bed plotter systems with interpolated coordinate axes and equipped with CO₂ and solid state laser sources for cutting and marking
Matik is on a growth trajectory and as a result we are looking for sales professionals to play a significant role in our expansion initiative.
Responsibilities
Achieve weekly and monthly prospecting and sales objectives for net new business
Effectively serve and expand any existing accounts assigned to you by Matik
Specify and quote equipment based upon the prospect's application and budget
Work with factory representatives to develop opportunities and close sales
Host customer visits to customer installations in the USA/Canada/Mexico and SEI Laser's factory demonstration center in Italy as well as machine build update meetings, FAT's, SAT's and project follow up
Update and maintain CRM with sales activities, contacts and lead information
Enter new customer data and other sales data for current customers into CRM
Qualify customer inquiries, determine customer business reasons for a purchase and present SEI Laser Technologies via Microsoft Office Products
Support the company's strategic sales plans to accommodate Matik and factory sales goals
Prepare sales forecasts, project reports and present company offers
Review machine layouts and work with factory engineering to meet customer's project and business goals
Prepare reports of business transactions and expense accounts
Stay current with industry trends and developments to seize new market opportunities
Requirements and Qualifications
3+ years of capital equipment sales (Required)
Wood, metal or technical textile market knowledge or laser experience (a plus)
Ability to gather information from customers, conduct needs analysis and recommend solutions
Strong work ethic and problem-solving skills
The ability to absorb product knowledge
Excellent communication skills – verbal, written, presentation, etc.
Ability to influence and persuade others to include the ability to effectively communicate with all levels from the factory operations to owners and C-suite.
Ability to work under pressure to execute moderate to high capital sales transactions
Patience, tenacity and professionalism to endure long term, complex sales cycles
Success with penetrating new markets, establishing new customer contacts and relationships, and using networking to expand existing customer relationships
Additional Position Specifications
Travel Requirements
Domestic and limited international travel, 70% of working time
Valid passport or the ability to obtain a passport is required
Education
Bachelor's degree (Preferred)
Work Authorization
Territory
Mid-West USA: AL, IL, IN, KY, MI, MS, OH, TN, WI, WV
CANADA: MB, ON
Languages
English fluency (Required)
Fluency in Italian, Spanish or French is helpful
Job Type
Full-time Sales Pro, salary + bonus program + commission
This is a career opportunity in which compensation has no limits and grows with experience
Salary
Benefits
Health, dental and vision insurance
Short and long term disability insurance
401K retirement plan
Profit sharing
Paid time off
Paid Training
Complete training, tools of the trade
Matik is an Equal Opportunity Employer. Matik does not discriminate on the basis of race, religion, color, sex, gender identity, sexual orientation, age, non-disqualifying physical or mental disability, national origin, veteran status or any other basis covered by appropriate law.