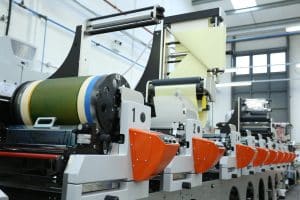 Hungarian label producer Norma has purchased a 9 color Edale FL3 printing press with UV curing.
The large label and packaging manufacturer plans to use the FL3 press for the production of IML, self-adhesive, multi-layer and extra-large labels, as well as for laminates, hot-melt application and specialties.
Norma's new FL3 has a special 41-inch maximum print length for extra-large in-mold labels, a second web re-insertion for multi-layer labels, high capacity hot air drying for in-mold label coating and variable length sheeting (up to 41-inch repeat) with CAM profile.
Gábor Rostás, Norma's Managing Director, was highly in favour of the Edale FL3 over  competitor options. He stated, "This step up prepares us for the future. With the Edale FL3, we can achieve lower maintenance costs and reduce waste as well as quicker color and job changes."
He also commented on the reliability and stability of purchasing through Edale. "Edale has had an open attitude towards creating a tailor-made solution for Norma, which matches the requirements of our customers. We were also reassured by the reliability of predecessor models."
The FL3 is a high-productivity, cost-efficient quality label and packaging printing press. Benefits include fast run speeds, quick color changes and an ultra-short web path ensuring minimum waste and maximum efficiency. With Full servo driven technology, the Edale FL3 boasts features such as Edale's unique UniPrint technology, which delivers industry leading high-quality print. The FL3 is fully upgradeable and can be adapted to suit future customer requirements.
James Boughton, Edale Managing Director commented, "We are delighted to be working with Norma on this project. With a bespoke set of customer requirements, this has been another great opportunity to show off our engineering capabilities."
Mr Rostás also stated that Norma received very good communication with the design and sales teams. "Together with Edale, we focused on the special properties of the machine."
Customers can visit Edale's dedicated showroom, which can be used for trials and demonstrations. For more information on showroom bookings, email info@edale.com
Edale equipment is sold and serviced in North America by Matik, Inc.