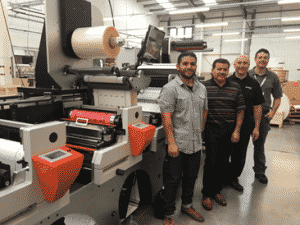 Based in Southern California, family-run business Geo Labels has recently purchased its first six-color Edale FL3 press through Edale's American distributor, Matik, Inc.
Geo Labels was founded in 2003 by its owners George and Elena Contreras. A well-known label company, Geo Labels specializes in manufacturing industrial and prime labels for diverse industries, including food packaging to cosmetics. The company learned about Edale from distributor, Matik, and it quickly became clear that Edale was the chosen manufacturer for Geo Labels' next investment.
"Compared to the current market of press manufacturers, Edale is ahead of the game with technology, combined with a personal approach, years of experience and a sound knowledge base," says Contreras. "Edale was the obvious choice for us."
James Boughton, managing director of Edale, says: "Edale has been wary of the U.S. market due to the strength of domestic manufacturers. However, since our old philosophy of manufacturing simple flexographic presses changed to now manufacture the most automated equipment in the industry, our success has really opened our eyes to the potential in this market."
The quality, performance and engineering excellence of the Edale FL range of presses has made it an instant success in the United States. The Edale FL line of equipment is the most sophisticated on the market. These presses are compatible with a range of substrates, from unsupported film to carton board. And Edale FL equipment provides exceptional print quality based on the unique Uniprint technology and world-leading automation packages, including AiiR and various automated finishing options. The market requirements of reliability, repeatability and finished-product quality are easily achieved. Matik is the sole distributor of Edale solutions in the United States, Canada and Mexico with considerable success since having been appointed in December 2016. The six-color FL3-430 is due to be installed at Geo Labels in September 2017.
Customer demonstrations are available and may be booked today at the Edale HQ. Please email our support team at info@edale.com or call us on +44 (0)1489 569 230 for more information. Additional information can also be obtained at Matik's website www.matik.com.